Flagging and Communications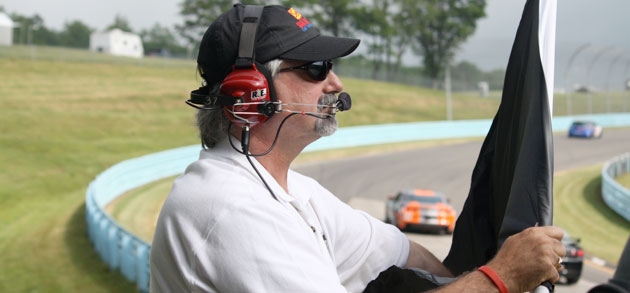 What is Flagging and Communications all about?
As a flagger you are as close to the on-track action as it gets; enjoying the sights, sounds and smells of world class road racing ( SCCA, NASCAR, GRAND AM, SVRA, Skip Barber Racing Schools, BMW Clubs, Porsche Clubs, Ferrari Clubs) at historic Watkins Glen International.
The RSI Flagging and Communications team lines the track at every event providing a vital link between the racers, the race stewards, and the safety teams. 19 Flag stations are located strategically around the track so we can signal drivers of track conditions and report to the stewards what is happening on all parts of the track.
Each station is manned by a minimum of two flaggers; one acting as the communicator (typically the corner captain) reporting track conditions and incidents to the tower via radio. The flagger, in coordination with his or her partner, display flags to the drivers indicating track conditions between their station and the next station down the track.
Newcomers will have the opportunity for training at the spring safety meeting (MSS) and will be paired with a veteran flagger during the season for "on track training" where their education will continue. There they will learn hands-on, what to expect and how to react.
Flags are displayed as directed by the corner captain or the race stewards. Incidents are reported to alert the stewards and safety teams. Stewards will then decide whether to display full course caution (double yellow flags), a black flag or a red flag and when to dispatch RSI Fire and Rescue and Course Restoration teams to the site of the incident. Clear concise radio calls from F&C are critical to maintain safety of the drivers and other RSI on the track.
A day in the life...
Morning Flag Meeting:
The F&C Flag Marshall (FM) e-mails event schedules and instructions to the F&C team on a weekly basis. F&C members gather every morning for the flag meeting at either Track Support Building or the Camp Ground Pavilion as indicated in the e-mail. At the flag meeting we enjoy some coffee (and if we're lucky a doughnut or two) learn any special instructions and receive our corner assignments.
On Station:
The team will quickly set-up flags, check track conditions and check in with the tower (known at the Glen as "Able"), wait for instructions and the cars to come out. Expect to be on your feet all day in any weather and be prepared for anything (see "what to bring" page)
End of Day:
Often, at the end of the day we gather in the campground for a cold beverage and to trade stories of the day's excitement. Some weekends we are treated to dinner and lunch by the visiting race series. We get close to the on-track action and the cars and drivers in the paddock and garages.
What to Bring...
Everyone has their own system but here are the basics:
Most of all: YOURSELF! Come often to enjoy everything about being an F & C Corner Worker!!!!
-Waterproof carry-all: Backpack, duffle bag or similar. Anything you need to bring to the corner with you can get wet. If its not waterproof bring a garbage bag to cover it.
Whites: We wear white for maximum visibility to the drivers. Clothes should be cotton. Dress in layers, it can be cold in the morning and hot in the afternoon. Make sure all your layers are white.
Pants for each day (white painters can be found at paint stores and national department stores)
Shirts for each day
Sweat shirts (preferably zip-up)
Coat (It can get cold)
Hat (protect yourself from the sun)
Sunglasses
Comfortable shoes (boots / sneakers). You'll be on you feet all day, be prepared to get the wet and have a spare pair (socks too).
Rain Gear: Its Central NY after all, and we play in the rain (that's when it gets fun), except for NASCAR weekends (but you can be out on station in the rain waiting for it to clear-up).
Buy rain gear in non flag colors if possible. White is preferable, blue and green are acceptable (yellow and red are NOT).
Gloves: It gets cold and red or orange colored gloves help make hand signals visible to the drivers in any weather.
Binoculars
Folding Chair: So you can take a break when the track is cold
Sunblock: You can burn on a cloudy day if you're out there for 8 to 10 hours
Sustenance: RSI Track Support will visit periodically to supply water, coffee and hot coco, but be prepared for anything.
Small Cooler
Water
Snacks
Lunch (if it is not being provided by the visiting racing series)
Dinner(if it is not being provided by the visiting racing series)
Scanner: Team members who are not communicators can monitor radio calls with a scanner. Sometimes spare radios are available.
Ear Plugs: Protect your ears. Available at the Track Support Building
Medical Items: Be prepared for anything
Aspirin (or similar product)
Band-aids
Stomach aids (hey, you never know)
Camping gear: If you're not staying in a hotel you can camp (trailer, tent) in the workers campground. Contact the FM for more information.
Sense of adventure and humor: Besides being a vital link in the safety team we are here to enjoy the sights and sounds of exciting racing and the company of good friends.